Sweet bites can help to enhance your mood. It is a universal truth that a meal with a dashing desert which is tasteful can make your bad day sweet! We are sharing more than twenty-one of my favourite Snacks both Sweet and Savory. Every recipe is perfect for serving on New Year's Eve or most other celebrations or parties. The recipes are also great to serve as either an appetizer or dessert.
Try to make all of these regularly as we like snacking and love different kinds of platters over the weekends. Therefore these are not only for Parties. It could be a platter or two or one recipe as an appetizer, snack, or dessert.
Here are the 11 Best Sweet Snacks for party:
Maraschino Cherry Chocolate Treats
Toffee Apple Tartlets
Cheesecake Bites Covered In Chocolate
Coffee Jellos
White Chocolate Dip
Italian Zeppole
Shortbread Surprise Cookies
Quick Mini Banoffee Pies
Peppermint Fudge Cookie Balls
Lemon Cream Puffs
White Chocolate Fluff
Let's look at each one of them with their recipes
1. Maraschino Cherry Chocolate Treats
Maraschino Cherry Chocolate Treats are an inexpensive, elegant sweet treat to add to a lovely party platter, and they make great gifts! It is one of the most innovative ways to serve desserts. It is made in minutes and gets ready for tea time, dessert, or to add to a sweet platter.
Prep Time: 30 minutes
Total Time: 30 minutes
Ingredients
250 g White Chocolate
250 g Milk Chocolate
1 Jar Maraschino Cherries, with stalks
Method of cooking
Melt the chocolate and fill the moulds or liners; leave a small space at the top and place in the refrigerator for ten minutes until it starts to set.
Place a Maraschino Cherry on top and press gently into the chocolate; it disappears in the melted chocolate when you add the Cherry too soon.
Return to the refrigerator for another ten minutes, then remove and drizzle with the opposite colour of chocolate.
Keep it refrigerated in a sealed container till it is ready to serve.
2. Toffee Apple Tartlets
Buttery, sweet, these mini Toffee Apple Tartlets are great to add to your lovely party platter or serve as a quick-to-make dessert.
Prep Time: 10 minutes
Cook Time: 15 minutes
Total Time: 25 minutes
Ingredients
36 Mini Pie Shells, ready-made
One large apple, cored and cut into tiny pieces
1/2 cup Toffees, cut into small pieces (soft Caramels are also great to use )
1/4 cup Brown Sugar, packed
2 TB Butter, melted
1 tsp Icing Sugar to dust
Method of cooking
Preheat the oven to at least 200 degrees C and line a baking sheet with baking paper
Place the empty Pie shells on the baking sheet and keep aside
Combine the Apple pieces, Toffee pieces, Brown Sugar, and Butter in a small bowl and let stand for 5 minutes
Spoon into the Pie shells, bake 10 to 15 minutes until bubbly and remove from oven – transfer to a wire rack, and let cool completely
3. Cheesecake Bites Covered In Chocolate
Cheesecake bites covered in chocolate are the perfect addition to a sweet party platter, and it is so easy to make for your family, and guests will love them! The cheesecake Bites Covered in Chocolate are fun to make and even more fun to eat.
Prep Time: 10 mins
Cook Time: 45 mins
Cooling/Chilling Time: 2 hrs 30 mins
Total Time: 55 mins
Ingredients
1 cup Tennis Biscuits finely crumbled or Graham Crackers
1/4 cup unsalted butter melted
500 g Cream Cheese plain, softened
1/2 cup Sugar
1/4 cup Sour Cream
1 tsp Vanilla Essence
Two extra-large Eggs
750 g Semi-Sweet Chocolate chopped.
Method of cooking
Preheat the oven to at least 160 degrees C and put an 8 inches oven dish with baking paper. Cut the piece large enough to form an overhang.
Mix the Tennis biscuit crumbs and the Melted Butter. Press on the bottom of the prepared oven dish
Beat the cream cheese until it is smooth in a mixing bowl. Add the sugar, vanilla, sour cream, and eggs and beat until smooth. Pour filling into the crust.
Bake for 45 – 60 minutes until it sets edges. The center will be soft, but it will set while cooling.
Remove from the oven and cool approximately thirty minutes before transferring it to the refrigerator; cool until thoroughly chilled, about 2 hours.
Remove Cheesecake from the paper and cut it into bite-sized pieces
Melt the Semi-sweet Chocolate until smooth. Excellent for a minute or two
Using a dessert spoon, dip and gently roll each piece of Cheesecake in the melted chocolate till it covers all sides
Place fell portions on a sheet of wax paper and chill until set for 5 – 10 minutes
4. Coffee Jellos
Coffee Jellos is a must-have recipe for all Coffee lovers! Refreshing sweet treats made with only four ingredients, including water.
Prep Time: 10 mins
Total Time: 10 mins
Ingredients
1/2 cup Cold Water
2 TB Gelatin plain
2 cups of Strong Coffee
One can (397g) of Sweetened Condensed Milk
Method of cooking
Sprinkle the unflavored gelatin over cold water in a bowl and set aside till the gelatin blossoms after 3 to 5 minutes.
In the meantime, make coffee; if you want it stronger – add another TB or 2 of instant coffee to the 2 cups of Hot Water.
Once the gelatin has blossomed, stir in the hot coffee and mix well. Make sure all the gelatin dissolves.
Add the condensed milk and mix till the ingredients are well incorporated
Pour mixture into an 8 x 8-inch dish.
Place in the refrigerator until well set for three to four hours will do
Cut into bite-sized cubes to your preference.
Keep in an airtight container and put inside the refrigerator till ready to serve
Look out for more recipes for parties and dinners:
5. White Chocolate Dip
White Chocolate Dip is an easy, quick, and divine treat served with skewered fruit, cookies, marshmallows, etc. It is perfect for Valentine's Day.
Prep Time: 10 minutes
Total Time: 10 minutes
Ingredients
1 cup fresh whipping cream
1/2 tsp vanilla essence
1/2 cup White Chocolate which is of good eating quality, melted
1/2 cup Icing Sugar
Sprinkles, optional
Method of cooking
Beat the cream to stiff peaks form and add the vanilla and give another quick whisk
While beating, add the melted chocolate and beat until smooth
Add the icing sugar and beat it smooth
Chill for a maximum of five minutes, stir and transfer to a serving bowl
Decorate with Sprinkles and serve immediately with Strawberries, Marshmallows, and Cigar Biscuits
6. Italian Zeppole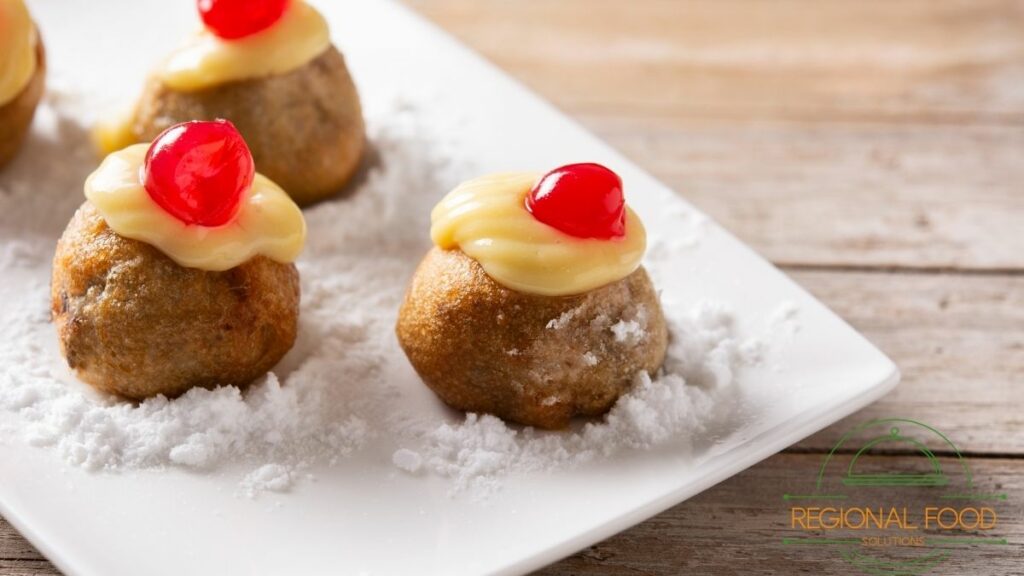 Italian Zeppole is the most delicious sweet treat! Deep-fried dough, almost like a beignet, but it is much chewier and denser – more of a Ricotta donut.
Prep Time: 10 minutes
Cook Time: 10 minutes
Total Time: 20 minutes
Ingredients
Oil for deep fry
1 cup Flour
2 tsp Baking Powder
1/8 tsp Salt
1 1/2 tsp Sugar
Two large eggs, beaten
One cup of Ricotta cheese and mash it up with a fork.
1/2 tsp Vanilla Essence
1/2 cup powder icing Sugar for dusting or rolling
Method of cooking
Heat oil in a deep-fryer
Place the flour, Salt, Baking Powder, and sugar in a medium saucepan and stir to mix; add the eggs, vanilla, and ricotta to the pan and mix gently over low heat until combined and the dough will be sticky.
Remove from heat, take tablespoonfuls of dough, about 4 centimetres (slightly under 2 inches) in diameter, and place into the hot oil and cook until golden for about three minutes per batch.
Use a slotted spoon, transfer the fried Zeppoli to a paper towel, and immediately roll or dust in Icing Sugar. Repeat until all the dough finishes.
Serve warm
7. Shortbread Surprise Cookies
These buttery shortbread surprise cookies have a delicious, whole nut chocolate center with pure cookie bliss, and anyone will not be able to stop eating the cookies!
Prep Time: 10 minutes
Bake Time: 20 minutes
Total Time: 30 minutes
Ingredients
200 g Salted Butter, room temperature
1/4 cup Caster Sugar (Superfine)
2 cups Flour
20 blocks Whole Nut Chocolate
Method of cooking
Preheat the oven to at least 180 degrees C and line a baking sheet with baking paper
Beat the Butter and Castor Sugar until it is creamy. Add the Cake Flour and mix to form a dough.
Roll the dough into 20 balls under 1-inch diameter.
The dough is very flexible; flatten each ball a bit, add a block of chocolate and close the dough over the chocolate.
Put the balls on the baking sheet for 20 to 25 minutes. It would be complete once the underside has browned slightly.
Put it down from the oven and let it cool completely on a wire rack before serving.
8. Quick Mini Banoffee Pies
Quick Mini Banoffee Pies are heavenly treats! For the caramel lovers, this is a must for you, and the mini pies only take a couple of minutes to put together.
Prep Time: 10 minutes
Total Time: 10 minutes
Ingredients
12 Digestive Biscuits
12 TB Caramel Condensed Milk
1 cup Whipped Cream
3 Bananas, sliced
1 TB Lemon Juice
Mint Leaves to garnish
Method of cooking
Spread a tablespoonful of Caramel on each Biscuit
Add a scoop of Whipped Cream over the Caramel
Drizzle the Banana slices with Lemon Juice and arrange 2 or 3 pieces on top of the cream
Garnish with mint leaves and serve
9. Peppermint Fudge Cookie Balls
Chewy, fudgy Chocolate Peppermint Cookie Balls mix in a mixer, rolled, and chilled for an easy treat!
Prep Time: 30 mins
Total Time: 30 mins
Ingredients
600 g Plain Cookies finely crushed
One can (397g) of Sweetened Condensed Milk
1 1/2 cups butter melted
180 g Peppermint Chocolate grated
Desiccated Coconut for rolling
Mint Crunch to sprinkle over (optional)
Method of cooking
Place the crushed cookies in the electric mixer bowl with the sharp blade attachment, add the Condensed Milk, Butter, and Chocolate, set on high, and mix for 3 to 5 minutes.
Remove from the bowl and roll it in a little smaller than golf ball size balls. The combination will be more toffee-ish than fudgy.
Roll each cookie ball in the Coconut till covered, place it on a lined baking sheet, and chill until firm.
Sprinkle with Mint Crunch, if using, when serving
10. Lemon Cream Puffs
Lemon Cream Puffs are flaky and light, filled with a divine Lemon Cream. It is possible to make it zesty as you prefer and another quick, easy but delicious dessert Pastry!
Prep Time: 25 minutes
Cook Time: 15 minutes
Total Time: 40 minutes
Ingredients
One roll of Frozen Puff-Pastry, defrosted
1 Egg
1 TB Water
2 TB Caster Sugar (Superfine )
1/2 cup Fresh Cream (heavy cream or whipping cream)
1/4 cup Lemon Curd
1-2 t Lemon Juice, optional
White chocolate, to drizzle
Icing Sugar to dust
Method of cooking
Preheat the oven to at least 200 degrees C and line two baking sheets with the baking paper
Roll out the Pastry, but do not roll any thinner and cut into 2 inches squares
Whisk together egg and water, brush the Pastry, and sprinkle the caster sugar.
Transfer the squares to the prepared baking sheets; leave tiny spaces between each square and bake for at least twelve to fifteen minutes or till puffed and golden.
Please remove it from the oven and put it on a wire rack to cool it down.
Beat the cream until stiff peaks form. Then fold in the Lemon Curd and Lemon Juice and chill for ten minutes before use.
Gently open a small piece in the center of one of the sides of each baked pastry square, lifting the upper part carefully.
Pipe the Lemon Cream in the pastry opening for about 1 – 1 1/2 tablespoonfuls per Pastry
Melt some cubes of White Chocolate and drizzle over the Puffs and let stand a few minutes to set
11. White Chocolate Fluff
White Chocolate Fluff is a light, fluffy and delicious white chocolate mousse perfect for guests or family treats. Ideal make-ahead light dessert
Prep Time: 10 minutes
Chill Time: 1 hour 20 minutes
Total Time: 1 hour 30 minutes
Ingredients
150 g White Chocolate, good eating quality
1/3 cup Milk
2 Egg Whites
1/4 tsp Lemon Juice
1 cup Fresh Cream (whipping cream or double cream)
2 TB Caster Sugar (Superfine)
OPTIONAL:
Silver Petit Dragees, to decorate
Method of cooking
Melt the white chocolate and stir in the milk quickly.
Beat the egg whites and Lemon Juice together until stiff and fold into the chocolate mixture
Beat together cream and caster sugar (Sugarfine Sugar) till soft peaks form and fold into the chocolate mixture
Pour into serving glasses, chill for 20 minutes, and then decorate with the Silver Dragees.
Chill for another hour or until you are ready to serve
Conclusion
Guests always appreciate a sweet treat, whether baking for a dinner party, bridal shower, baby shower, a wedding, or a birthday party. So it's essential to offer people an easy grab-and-go dessert as people mingle. Think of it as dessert finger foods. The recipes mentioned above are more than just sweet snacks; they are a treat for the sweet buds on your tongue. So, try them at your home and share your experience with us in the comments below. We would love to hear from you.