Food truck business has become a very common phenomenon and you can definitely find one in your street too. Along with delicious dishes, food truck owners serve a unique experience of dining out to the public. Do you know how much monthly profit they make via food truck operations?
Food trucks operating with high schemes in major cities with high populace can earn from $20, 000 to $50,000 on an average in a month. Whereas, those trucks which serve snacks and light meals in cities with less population can expect an income ranging from $ 5,000 to $ 16,000 a month.
Though the idea of the kitchen on wheels was first established in the USA, there is a rapid flourishing of the food truck business all over the world as it demands lesser starting cost and ensures the earning of high income and huge profit. Many new entrepreneurs have set their feet on food truck operations which enabled them to reap a great sum of money annually.
How much do food truck owners make a year?
According to the report of the survey conducted among 223 full-time food truck owners from 5 different states by Foodtruck
Empire to evaluate their annual income from solo trucks, 85% of the vendors earned an annual revenue above $100,000. More than half of the food truck operators could make an income over $ 150,000.
The statistics show that gross income is comparatively greater than expenses. Moreover, truck owners find no difficulty in setting up and managing these mobile food units. They get an opportunity to experiment with different cuisines and sell them at affordable prices than premiere restaurants.
How to start a food truck business?
Starting a food truck needs lots of market study, accessories and legal sanctions. Here are the major steps to start a food truck business.
Conduct a research on the current situation of food truck business in various streets of the state.
Make a business plan after conducting market analysis
Arrange monetary source for making investment
Apply for food truck permits and licences such as

Business licence
Employer id number
Food Service licence
Employee health permit
Mobile food facility permit
Zoning and parking permit ( Note : The requirements may vary from state to state)

Buy a new or used food truck.
Customising the truck design.
Hire 3 or 4 experienced employees.
Purchase the essential equipment required for the kitchen and supplies.
Select the best mobile point of sale system (POS). This enables the customers to make payments using their cards. Internet access is required for implementing POS.
Invest in marketing and advertising.
How much does it cost to open and operate a food truck business?
There are several factors other than buying a food truck that demands a great deal of investment while opening a food truck venture. The vendor will definitely have to pay for the opening day ingredients, licences and permits, parking and maintenance for one month, kitchen equipment and supplies, packaging and marketing, bookkeeping and other office supplies, insurance and miscellaneous expenses. On average around $ 14000 will have to spend on setting up all these excluding the cost of food trucks.
While making a plan to start up a food truck business, one should also beware of the daily expenses of their project. Equipment and vehicle repairs, cost of fuel, Phone/ internet and POS charges, the maintenance cost of the vehicle, delivery charges, wages of the employees, insurance and marketing and proper management of food waste are the regular costs that will have to be met by the food truck owner.
What are the major equipment you can find in a food truck?
Have an accurate plan to make use of the optimal space available in the truck in order to occupy the vehicle with everything you need to cook and serve food. When you are setting up a food truck, you will need to buy equipment for cooking, warming and holding, food prep, a food truck serving or supplies, refrigeration and janitorial.
Cooking Equipments
Griddle
Range
Charbroiler
Microwave
Toaster
Salamander
Fryer
Food truck exhaust hood
Warming and holding equipment
Counter top food Warmer
Fry dump station
Soup Warmer
Food Prep Equipment
Stainless steel work table
Cutting boards
Knives and Racks
Skillets
Sauce pans
Turners
Thermometers
Blender
French fry cutters
Food truck Supplies
Pump condiment dispenser
Squeeze bottles
Serving utensils
Sugar, spice or cheese shakers
Paper food trays
Paper or plastic cups
Plastic utensils
Portion Cups
Food wrap
Disposable gloves
Paper napkins and dispensers
Take – out containers
Refrigeration Equipment
Worktop or undercounter refrigerator
Sandwich or salad preparation refrigerator
Pizza preparation refrigerator
Countertop glass door refrigerator
Undercounter freezers
Janitorial Equipment
Three compartment Equipment
Hand sink
Wet area floor mats
Sanitising chemicals
Scrubbers and sponges
Trash can and liners
Broom and dustpan
Tips / Strategies to enhance food truck income
Do you have any idea about how the food truck business has become so trending within a short span of time? It is solely because of the distinctive methods of marketing that the vendors have adopted, which aided in increasing the profit and fame. Let's have a look into various strategies to enhance the food truck income.
Choose the best locations for sale
Finding the apt spots for conducting business, has a pivotal role in attracting more people to your mobile restaurant. Find out the streets where people frequent more and create a conducive environment for them to enjoy the food.
The best and proven locations for food truck operations include spots near street parking, major offices, malls or buildings, bars and nightclubs, fests or events, gas stations, college campuses, tourist destinations and so on
Altering items in the menu card seasonally.
Yes, you need to know the changes that you have to make in your menu card. There are varying food items that may be in high demand in every season. Your truck should be serving those items as per the cravings of the customers. This is another magic that would help you to draw more foodies to your table.
Offer home delivery
You can satisfy even those people who hate to wait in a long queue in front of the food truck, by serving their choices at home. You can choose to collaborate with other food delivery agents such as uber eats, swiggy, zomato and so on in order to advertise your brand quickly. This can also help to increase your reliability among customers by clubbing your brand name with well-established food delivery companies. Else, you may hire an employee to deliver the food to the customer's address.
Increase the servicing speed
Do not let your customers wait for too long. Have enough efficient staff to handle the kitchen and customers effortlessly. Use a POS system for easy billing and getting mobile orders.
Attend local fests and events
These are the occasions to conduct great sales and also to advertise your brand name with no additional charges. Get a thorough knowledge about all the events and festivals and have a great plan regarding the special menus you need to serve according to the nature of the event.
Social media marketing
Collect phone numbers and mail ids of your regular clients and constantly update your offers and special menus via WhatsApp and mail. Moreover, try to post updates and live videos on FB and Instagram to get the attention of more people.
Special offers and combo meals
Give discounts and combo offers, especially to school and college students. People prefer to opt for combo meals if provided at an affordable rate. Choosing the best pairs for making combo meals is really important as it should give a pleasant taste to the customers. The combo items should be presented in a highly appealing way to the customers so that they would be tempted to buy it in future also.
What kind of food truck items make the most money?
There are different techniques that can be implemented to make the business a profitable one. The first and foremost focus of all the victorious food truck vendors is on the kind of food they include in the list. The right choice of dishes always plays an indispensable role in deciding the success rate of the food truck business.
There are certain food items with less price and high demand.
Burgers
A wide range of burger menus can be seen in the food truck list as they can be produced with lesser effort and are popular among people of different ages and cultures. Since it is sold at cheaper rates, people prefer to buy burgers at any time of the day from catering truck vendors.
Pizza
Another popular dish in the food waggon menu list is pizza. Pizza concession packages
are now available which enables the food waggon owners to make pizza
in less than 24 minutes.
Barbeque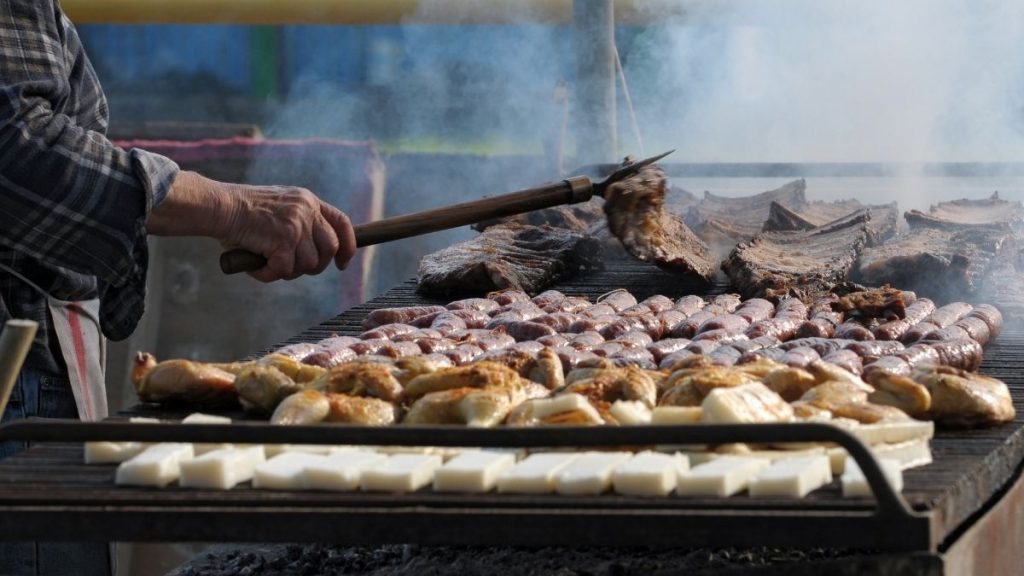 There is nothing tastier and filling than a perfectly made barbeque. There are plenty of people who prefer to have BBQ paired with healthy salads.
Mac and Cheese
Well, prepared Mac and cheese are of the major attractions in the food truck menu card. Kids and adults would love to order this dish and can be a perfect choice for making a profit out of the sale.
Tacos
Tacos trucks are considered as the root cause of popularising the food truck movement. Different varieties of tacos are now served at the food trucks, and surprisingly there are daily customers for the same, who would not order anything else.
How do you price a food truck?
Though the initial investment of food truck operation is comparatively lesser than opening a restaurant, one needs to have proper planning while doing this. On an average scale, purchasing and modifying a new waggon is not as simple a task as we imagine. According to the records of the article published in 2021
in Roaming hunger , expense on starting food truck business is as follows
| | |
| --- | --- |
| Used food truck | $ 50,000 – $ 100,000 |
| New kitchen on used truck | $ 75000 – $ 100,000 |
| New truck with new kitchen | $ 100,000 – $ 175,000 |
Though buying a used truck can be cheaper, there are risks hidden behind this move. You can easily get a used truck with a permit at Roaming hunger marketplace. (Source
)
Unexpected breakdown of the vehicle and lesser probability to alter the infrastructure are some of the serious concerns of buying used trucks.
Building up a new kitchen in a used truck may help us to choose brand new equipment which can make the owner and the customer happy. Yet, the constant threats posed by used vehicles still remain.
Getting a new truck and kitchen can be a reliable move as it does not have the aforementioned challenges. You can ensure the quality and standard of both the truck and kitchen. You can include your personal, budget-friendly layout while designing the structure of the kitchen.
How much money do food trucks make at festivals?
Festivals or events are considered as the greatest opportunity for food vendors not only to make a profit but also to market their brand to a large crowd without any expense. They can make $ 1000 to $ 2000 as net income by conducting sales on a single festival. In addition, they get a chance to pull more people by serving the best in their mobile kitchen.
By attending a large event, food vendors can optimise their income at a rate of 5%, which is not a small figure when converted into dollars. Vendors should have ideas on the right event to be chosen, the food to be served ( at a cheap rate) to attain more profit and also the tips to enhance sales.
Choosing different festivals and establishing a reputation among people is the key to the success in the food truck business.
There are festivals which last for more than 5 days, which bring better foot traffic. Finding such spots can ensure the growth of the brand and create a space in the minds of thousands.
Conclusion
Are you planning to start up a food truck venture? Then, have a great plan beforehand and hire incredible chefs to serve the magic of tastes to the public at affordable rates.