How I wish I quit my job right now and started my little cafe with the best coffee in ten varieties that caters to everyone. Have you ever felt the need to quit your boring job and open a small food business of your dreams but don't know where to start as the fact of starting a business is too overwhelming and scary given the lengthy process starting from gathering enough capital to licensing and fees, I get you!
Food trucks are more profitable in many ways due to their flexibility, mobility, and reduced initial investment as compared to restaurants that need a dedicated space that is fixed and a higher investment, to begin with. The future of the food truck industry seems bright with its projected revenue growth at a rate of 3.7% in the next five years. If things work out this way, the industry total will climb to $1.7 billion, which is massive growth for a newly introduced industry.
Look no further! Here are the key differences between starting a food truck vs a restaurant that will help you tick off what might be the best options for your preferences.
FOOD TRUCKS
The sight of food trucks has been such an exciting part of everyone's day out thanks to the variety and availability of them especially when there is a fair, a special occasion, etc. However, to start a food truck business from scratch is a lot more work than you would think as it involves multiple factors to determine the same. Let us look at each one step by step:
1) Investment
When your initial investment is limited, food trucks are one of the best options to choose from as opposed to restaurants. When your small food business is on wheels, the need for physical space, furniture, equipment is lesser which means that you will need much less investment than to start a full-fledged restaurant.
According to Limetray
, an average food truck would cost anywhere between $10-$13K whereas a fully equipped food truck would cost above $26K, with the vehicle consuming the highest percentage of the investment followed by raw materials and marketing costs that you would incur based on the nature of the food you are selling.
2) Staffing
Having dedicated staff to help you with your food truck is also very important but it also depends on the specific need requirement. You will need to hire a few staff resources to handle the major operations of your business. As food trucks mostly sell food that can be quickly prepared (fast food and smoothies), the need for a huge staff is less. Food trucks can be considered if you have a small team of 5 or fewer people, to begin with.
3) Recurring Expenses
There are a few important recurring costs that you come across when managing a food truck business, the major ones being cutlery. Since food trucks use mostly disposable cutlery, napkins, boxes, etc a lot of recurring costs would cover the aforementioned type. Also, due to a lack of storage, you would need to buy items in smaller quantities than would cost a lot more than buying in large bulk quantities. Also, the ground rent prices are also a recurring expense as you would have to pay rent to park your food truck at a location unless you own the place. (Source
)
4) Estimated Revenue
The concept of revenue per customer can be tricky as people mostly prefer to eat at restaurants with their families as opposed to food trucks. So one would need to price foods higher or market their brand better which could incur extra costs in order to get to the same revenue target that a restaurant makes. But food trucks have been said to be more profitable
when the food they sell is unique and multicultural and which is not native to your current location. So go ahead and start your dream food truck with authentic Lebanese dishes in New York City in order to attract real customers as different cuisines are always a good choice to try out!
5) Trends
Different trends impact sales in different ways. When it comes to food trucks, it is always the seasonal trends that you must look out for. Summer season is always a clear winner for food trucks as people prefer lighter and chilled food and drinks as a takeaway for a picnic or a trek. Whereas in winter the sales tank considerably as people like to order food in the comfort of their homes thanks to the freezing temperatures outside. But food trucks can attend events and parties to set up their business in order to scale their revenue during colder months.
RESTAURANTS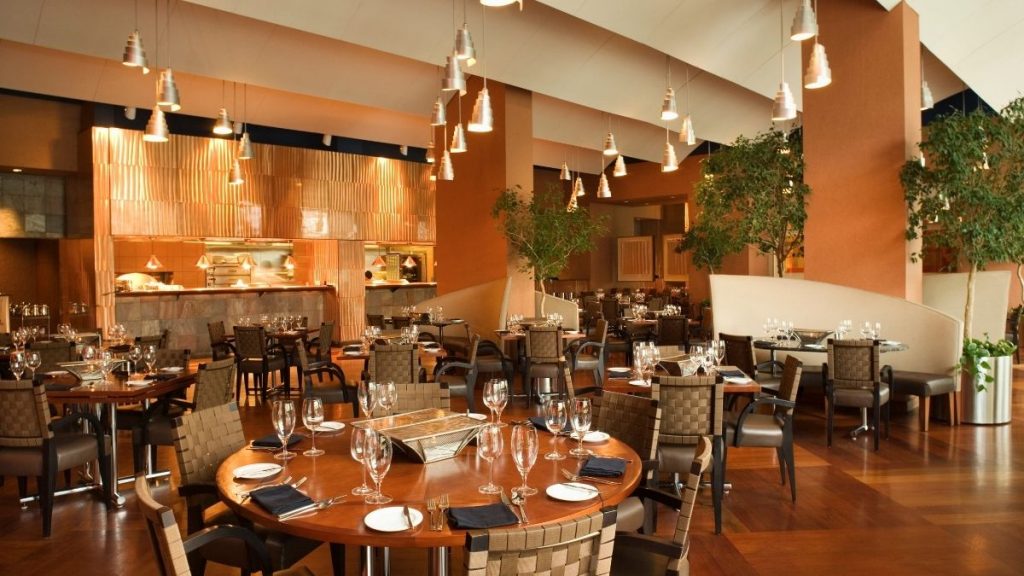 Starting a small restaurant or a cafe of your dreams has never been easier given the preferences of people and their openness to try out new things. However, starting a restaurant is a serious business as it involves a few more factors than a food truck. Let us go through them.
1) Investment
There is no doubt that a restaurant or a cafe involves much more initial investment than a food truck, as it involves a fixed location, dedicated staff of more than 10 people, storage facility, maintenance costs, etc. An average small restaurant might require an initial investment of about $275,000 in North America and about INR 2,500,000 in India which might vary depending on the location and size of the restaurant. Source:
2) Staffing
Depending on the size and nature of the restaurant, a dedicated staff of at least 12 people is required to start a restaurant business along with a manager, head chef, junior chef, helpers, etc. If your restaurant serves more than one cuisine or serves drinks along with the usual menu, a separate team of staff is required to cater to those areas as well.
3) Recurring Expenses
There are a number of recurring expenses that a restaurant would need to incur. Starting from rent, which is a major expense, other costs like high-quality cutlery that involves cups, plates, glassware, etc that need to be replaced or added, salaries for the staff, other overhead costs like electricity, water, WiFi, etc are one of the many things that would need attention. It is better to hire an accountant that is responsible to cater to these expenses to avoid confusion or misrepresentation.
4) Estimated Revenue
As the investments are higher, the estimated revenue or revenue per customer is also high at restaurants as they serve a variety of cuisines and drink under one roof, offer takeouts, etc. Since the number of customers at restaurants is more compared to food trucks because they usually come with families the size of their orders is higher, hence the higher total revenue overall, not to mention the frequency of customers returning to the restaurants is higher as well.
5) Trends
The seasonal trends do not impact restaurants a great deal as people would prefer to eat in even during colder months. As restaurants are enclosed spaces, they can cater to people during all seasons as opposed to food trucks. So overall, the likeliness of a restaurant surviving an off-season is higher than food trucks.
Why is a food truck more profitable than a restaurant?
| | Food Truck | Restaurant |
| --- | --- | --- |
| Investment | $28,000 – $114,000 | $275,000 – $425,000 |
| Staffing | 2-6 workers | Above 25 workers |
| Recurring Expenditure | $12,922 per month | $20,000 per month |
| Estimated Revenue | $250,000 – $500,000 | $1M+ yearly |
Even though it depends on individual preferences, overall, a food truck can be a better choice than a restaurant for a number of reasons with minimal risks involved and lower investments.
1) Mobility
One of the best reasons why food trucks rank above restaurants is their mobility factor. They are not fixed at one place as opposed to restaurants and can relocate and try different places with minimal costs in order to attract varied customers. You can find multiple busy locations in a week and can generate good revenue thanks to your mobile food paradise.
2) Flexibility
Food trucks always have the advantage to change their menus, add and delete cuisines, change the course or rebrand themselves. This is a very important advantage as rebranding usually takes a lot of time and might involve a few losses during the process of the same. Whereas it is way easier to rebrand your food truck business.
3) Startup Costs
We have touched upon this multiple times but it is the best advantage out there as the overall investment to start a food truck business is lower which means that there will be lower risks, lower losses, lower paperwork, and higher chances of your business being profitable.
4) Customer attraction
Food trucks are known to attract more customers than restaurants due to their inexpensive menus and being more hygienic as compared to restaurants thanks to their disposable cutlery. With growing health awareness, foods that are served in disposable cutlery as preferred over reusable ones.
5) Scalability
CNBC
estimated that around 60% of restaurant startups fail within the first year which increases to 80% by the fifth. Due to the rise and fall in demand and world crisis, the restaurants take a huge hit which might lead to their closure. Food trucks are much easier during these times as the business can easily be sold with lesser losses compared to restaurants. 
What kind of restaurant is good to make profit?
Though restaurants demand a higher initial investment than food trucks, going in for most popular cuisines can be very profitable and can make the highest margins over time. Some of the best restaurants that make good revenue are –
Bars: As all of us are aware, alcohol is one of the most profitable categories when it comes to restaurant profits with an estimated revenue of over $300,000 per year with varied revenues depending upon location. We all love 'em drinks!
Buffet Restaurants: This might sound a bit ironic, as in buffet restaurants you let people eat unlimited food for a fixed price. But one thing to note is that you will be saving on other areas like less labour with a few staff members and all buying large quantities of raw material that might reduce overall overhead and operational costs.
Pizzerias: Did you know that pizza was first made in Italy as poor people's food? Now being one of the best world-class dishes, pizzas are easy to make and can be sold at a premium price which can be very profitable over time as most of the ingredients to make them are also available at nominal prices.
Vegetarian/Vegan Restaurants: With health consciousness and clean eating trends taking over the world, the perfect time to open a vegan restaurant is now! According to a survey conducted by vrg.org, over 37 per cent of the population eat vegetarian and vegan meals and the numbers are rapidly increasing thanks to the awareness that is being created all over social media.
What kind of food truck is the best for profit?
Almost all kind of foods make a good profit in food trucks when it tastes the best but here are the top 5 kinds of food trucks that make the most money
Burgers – All kinds of burgers from simple potato crispy burger to loaded double patty burger all kinds makes the most money as they are one of the most convenient fast foods that are filling and tasty
Pasta – Plates of pasta are a staple for anyone in need of a good filling and savoury lunch and the food trucks that sell hot ready to eat pasta on demand will be profitable in mere months
Patisserie: All things sweet and your revenue will also be sweet in no time! Pastries, desserts, cakes, and muffins are the best go-to snack along with coffee and sell the most
Falafels: This popular middle eastern food has become people's favourite in recent times, thanks to its loaded protein content with added chickpeas. Food trucks that sell falafels and salad boxes are one of the most profitable among others.
Conclusion
While the food industry is thriving with new cuisines and cultures introduced all over the world through restaurants, cafes, food trucks, etc. While starting any business, in general, requires hard work and effort, food trucks win in comparison to the huge money that is invested in restaurants due to all the reasons mentioned above and of course minimized overall risks and maximized rewards factor. Please comment down below on what you think of starting a food truck business or if you think restaurants are more profitable in any way.