France produces some of the most incredible cuisines that the world has ever tasted. In France, cooking is a professional sport! So it alone should be enough of an indicator to tell you how much France values its food. When you want to know which ones are the best French dishes, this article is the right one for you. Whether you physically travel to France or decide to make the dishes yourself, the article below will enlighten you on the best French food and which one you should give a shot.
It is a simple combination of rich flavours and a unique process that makes French dishes the tastiest cuisine the world over. There is no need for you to acquire the skills of a Michelin Star chef to prepare any of the dishes. Great taste does not need cooking in a complicated way. So we would take you on a journey of the best dishes in France, which are traditional but have overpowered the people's taste buds all over the globe. Bon appetite! 
Here are the top dinner food in France:
Salmon En Papillote 
Boeuf Bourguignon
Quiche Lorraine 
Gratin Dauphinoise
Crepes
Cassoulet
Steak Tartare
Bouillabaisse 
Ratatouille
French Onion Soup
Chicken Confit 
Coq Au Vin
Gougeres
Croque Monsieur
French Salad Recipe
Lets look on each one in detailed
1. Salmon En Papillote 
When translated to English, this dish means "Salmon in Parchment." It is one of the unique ways to cook a fish. Essentially, you wrap the salmon and vegetables inside a piece of parchment, and you let them all cook together. Each flavour—juices and all—blends to form a delicious meal. 
Follow this step-by-step recipe to make the best Salmon En Papillote
at home.
2. Boeuf Bourguignon
The list of French food is incomplete without including this winter warmer that has its origins in the Burgundy region. It is a French stew made with beef braised in beef stock and red wine, naturally from the Burgundy region. Carrots, garlic, onions, and a bouquet garni which is fresh herbs tied together, are simmered, resulting in a hearty beef stew.
To make the best Boeuf Bourguignon
at home, follow this step-by-step recipe.
3. Quiche Lorraine
Though it has been "Americanized" like many foreign dishes, it will always remain a French dish. This dish consists of bacon, onion, swiss cheese, and eggs; quiche lorraine will satisfy your hunger. When you ever get the chance to travel to France, this dish is one you want to keep in mind. So make it at home tonight.
To make the best Quiche Lorraine
at home, follow this step-by-step recipe.
4. Gratin Dauphinoise
Potatoes are one of the cheapest ingredients at any time of year; get the royal treatment of this essential ingredient when seasoned with cream, a touch of cheese, and herbs and baked to perfection. This recipe pairs nicely with a lighter side of vegetables or the market lettuces, balancing the potatoes' creamy richness. It is one of the best and tastiest ways to cook potatoes from what is said worldwide. The potatoes combine with butter, thyme, cream, cheese, garlic, potatoes, and more to create a fantastic dish that everyone needs to try. Besides that, it's easy to make; the potato dauphinoise will give you a little taste of France.
To make the best Gratin Dauphinoise
at home, follow this step-by-step recipe.
5. Crepes
Crepes originated in Brittany but are famous throughout France, and eating this food in France somehow always tastes much better than it does at home. A good crepe is very thin; it may have chocolate and looks like a sheet of paper. A simpler version which is a quarter size is sprinkled with sugar (au sucre) or drizzled with lemon (au citron).
To make the best Crepes
at home, follow this step-by-step recipe.
6. Cassoulet
Cassoulet is another traditional French food that originates in the Languedoc region in the south of France. It is a slow-cooked casserole that contains only white beans and duck—mutton, Pork sausage, and sometimes goose. There are very few different versions depending on which town you try this dish. In Carcassonne, for example, they double the portion of mutton, while in Castelnaudary, duck confit is used instead of the mutton.
To make the best Cassoulet
at home, follow this step-by-step recipe.
Look out for more recipes below:
7. Steak Tartare
It is the perfect dish for meat lovers, and it requires no cooking! It is raw meat that is finely chopped by hand and seasoned. Onions, cornichons, capers, and a raw egg tops the dish to make it more delicious. The best quality beef is the requirement for this classic French dish. It's one of the famous French foods that are delicious and may surprise you with its taste. In addition, it is among the very few foods from France that is easy to prepare at home.
To make the best Steak Tartare
at home, follow this step-by-step recipe.
8. Bouillabaisse
Bouillabaisse is famous throughout France, but you may find the best examples on the coast around Marseilles, and this is a classic example of French cuisine. It is another simple dish that anglers use to make. They used at least four types of fish and shellfish to make this rich soupy stew and herbs grown in the south of France. Additional ingredients include egg yolk, mustard, and tomatoes. The dish is among the most popular ones in France that you should not miss, especially if you like seafood.
To make the best Bouillabaisse
at home, follow this step-by-step recipe.
9. Ratatouille
Ratatouille is another classic French dish that incorporates the abundance of summer gardens in our list. It is a mélange of eggplant, tomato, zucchini, and herbs, peasant food. Again, it uses only the freshest produce for the maximum taste and texture. This basic recipe is straightforward, but it leaves plenty of room for experimentation.
To make the best Ratatouille
at home, follow this step-by-step recipe.
10. French Onion Soup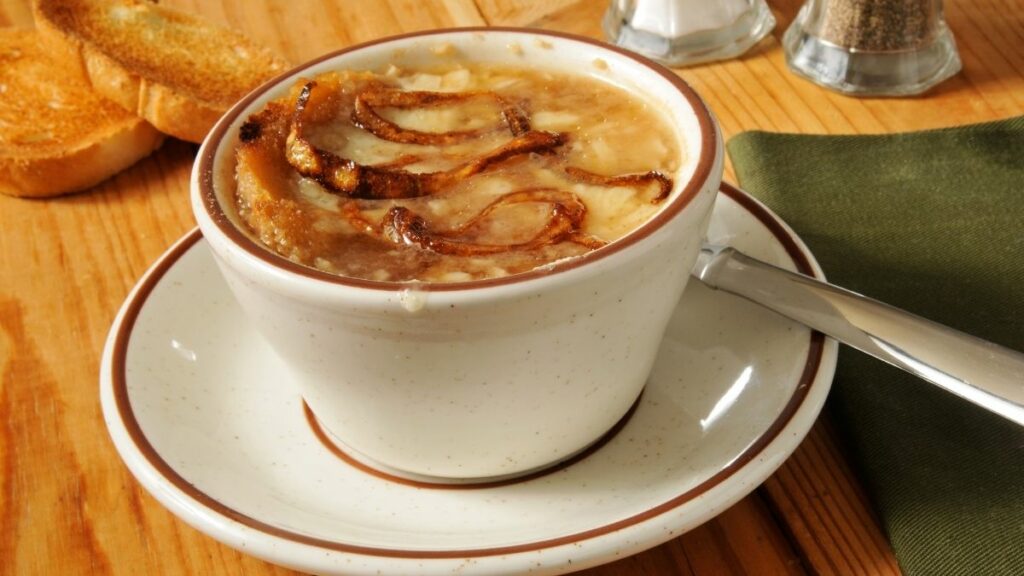 The base of the beloved dish is onions and lots of them, which are super cheap at any time of year. Simmer it to a dark brown; the onions become satisfying when they come with crusty bread on top and Gruyère cheese, then baked to a gooey finish. This soup tastes delicious using the best onions available and completing each step with care. Make the beef broth from the leftover bones at home for the best flavour and lowest price.
To make French Onion Soup
at home, follow this recipe step-by-step.
11. Chicken Confit
Chicken confit is one of the most delicious ways to cook chicken. It is salty, tender, well-cooked, and is sure to leave you craving for more. This French cooking technique involves simmering the chicken in its fat until it is crispy and juicy on the inside. You can use lard or olive oil these days, which is more accessible to the source.
To make the best Chicken Confit
at home, follow this recipe step-by-step.
12. Coq Au Vin
It is one of the most classic French foods to try. Coq-au-vin, which means rooster in wine, was traditionally from Burgundy. It is light in colour and has a more delicate flavour. The dish has ingredients similar to Boeuf Bourguignon with onions, garlic, lardons, and mushrooms. The easiest part is to let it cook slowly over low heat. The longer you cook the dish, the more intense the flavours become, and the meat's softer. It has to be high up on the list of famous French food.
Follow this step-by-step recipe to make the best Coq Au Vin
at home.
13. Gougeres
When hosting a party, try to mix things up and swap out the usual cheese and crackers you will find during the cocktail hour with these irresistible gougers.
These cheesy beauties are as light as air. You may mistake them for pillowy clouds of cheesy goodness made with a pate of choux dough, the same for cream puffs and éclairs and flavorful cheeses. They can be whipped within minutes and baked to golden perfection for easy entertaining.
To make the best Gougeres
at home, follow this step-by-step recipe.
14. Croque Monsieur
While we're on cheese, I have to share this easy French recipe for Croque monsieur. It is a French bistro classic recipe and puts the American grilled cheese to shame. Although the grilled cheese sandwich is no ordinary sandwich made with nutty gruyere cheese, ham slices, Dijon mustard, and bechamel sauce, the Croque monsieur is the perfect option for craving an easy and comforting food dinner.
To make the best Croque Monsieur
at home, follow this step-by-step recipe.
15. French Salad Recipe
The French salad recipe comes with any green you prefer: arugula, spinach, mixed greens, or any other salad greens. The magic of any French salad is in the French vinaigrette.
It is rare to see a French salad with a heavy dressing. Instead, you'll find light, lemon vinaigrette like the one shared here on various French salads. You may whip the French vinaigrette as your go-to salad dressing for any salad, no matter the season or type of the Salad.
To make the best French Salad
at home, follow this recipe step-by-step. 
Is there any speciality in French cheese?
The French natives are known for their love of cheese. There are many delicious cow's milk cheeses ('Fromage de vache') and goat's milk cheeses ('Fromage de chevin'). Camembert, Brie, and Roquefort, or blue cheese, are some of the best-known cheeses eaten worldwide.
What are Macarons?
Macarons are delicious sweet cookies filled with buttercream. Macarons come in many colours to distinguish the taste of the filling, such as pink for raspberry taste, brown for chocolate, yellow for vanilla or lemon, green for pistachio, blue for blueberry, and the French macaroons melt in the mouth!
Why are truffles used in French cuisine so expensive?
Truffles are expensive since they are a rare kind of mushroom. They are costly, so only small quantities are used in French cuisines. Instead, the dried truffles are grated or sliced over pasta and meat dishes or added to sauces, salads, or soups. This mushroom grows near oak and hazelnut trees.
Conclusion
Well, there you have it. We have everything in a planter to provide you with the best French food items today. Whether making them at your home or sampling them in France, all of the French dishes will tantalize your taste buds.
So, I hope your gastronomic journey of one of the most popular dishes in French cuisine has swept you by your feet. You may add your views and comments below; we would love to hear from you.