Canada, the world's second-largest country, is home to hundreds of diverse foods and traditions. Do you want to know some of the best Canadian cuisines?
Canada boasts world-class products, from poutine to freshwater lake fish but the country's culinary credentials deserve equal praise. From the far west coast of British Columbia to the east coast of New Brunswick, from the prairies to the mountains, from the Maritimes to Toronto, and everywhere in between, Canada offers a diverse range of weather, language, religion, politics, and, of course, food!
Here are 10 genuinely classic Canadian dishes—and the finest places to find them—ranging from centuries-old soups to luscious desserts.
Poutine
Poutine is a Québécois dish made of fresh-cut french fries topped with cheese curds and gravy. Many people believe that this is the most popular meal in Canada.
Few Canadian cuisines have achieved international acclaim as much as poutine. Crispy fries, squeaky cheese curds, and thick gravy come together to make the dinner of dreams, and this French Canadian cuisine is now available all over the world. The original version is delicious on its own, but adding toppings like pulled pork, bacon, and smoked meat really elevates it – and at an average price of £3.50, it won't break the budget.
Check similar blog Top 5 Food to Eat for Dinner in the USA
Bannock
Bannock is a variety of flat quick bread or any large, round article baked or cooked from grain.
Bannock is a simple bread that was once a mainstay in the diets of Canada's Aboriginal people. It's delicious and flexible. Baked (heavy/dense) and fried varieties of bannock are two modern variations (which are crispy and fluffy on the inside). Bannock has been increasingly popular in recent years, with new twists and versions sprouting up in bakeries and cafés across the country — you must try it!
Nova Scotian Lobster Rolls
From coast to coast, Canada is home to some of the world's best seafood. Atlantic and Pacific salmon, smoked salmon, arctic char, and, of course, East Coast lobsters are all must-try experiences. Lobster rolls from Nova Scotia are a Canadian favourite.
Montreal-style Smoked Meat
Montreal-style smoked meat, Montreal smoked meat or simply smoked meat in Quebec is a type of kosher-style deli meat product made by salting and curing beef brisket with spices.
Montreal's smoked meat is similar to pastrami in that it is made from beef brisket that has been salted and cured for a week with a variety of spices before being smoked and steamed to perfection. It's typically served in a rye bread sandwich with pungent yellow mustard, but it's also used as a poutine topper. Schwartz's Deli's smoked meat sandwiches have gained international acclaim, and some devotees believe it to be one of Canada's top restaurants.
The only way to find out is to give it a shot!
Peameal Bacon
Peameal bacon is wet-cured, unsmoked back bacon made from trimmed lean boneless pork loin rolled in cornmeal.
This unique Canadian bacon is created from lean boneless pig loin that has been cut, wet-cured, then rolled in cornmeal to give it a characteristic yellow crust. It's juicier than American-style bacon, as well as leaner and, some may argue, more delectable.
Beavertails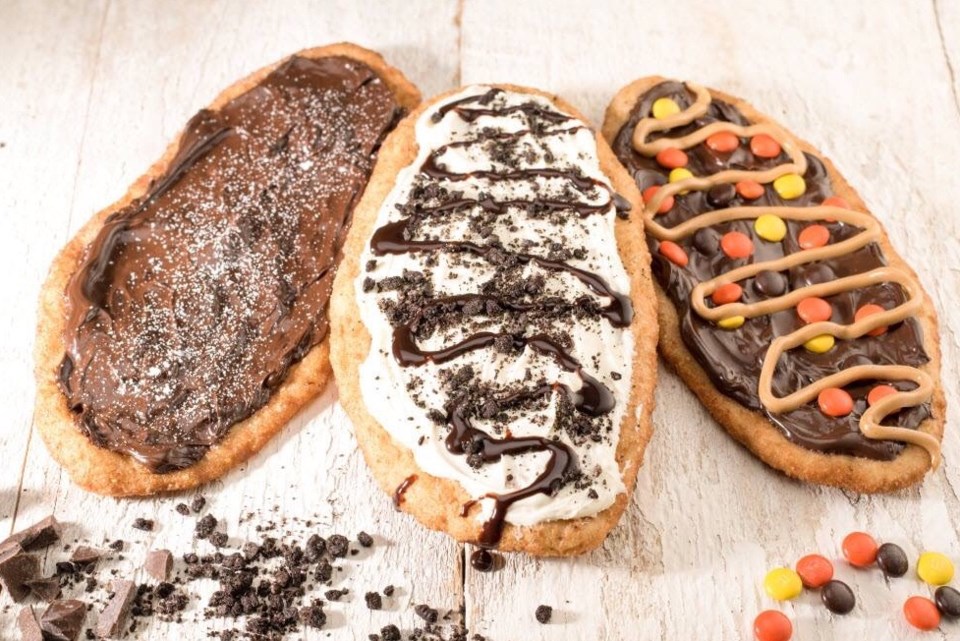 Consider a slab of delectable deep-fried dough topped with Nutella, Reese's Pieces, peanut butter, and other goodies. Beavertails are gooey, crispy, and a taste of genuine perfection, even though they aren't a traditional Canadian dish. Without one, no trip to Canada is complete!
Hawaiian pizza
Classic Hawaiian Pizza combines pizza sauce, cheese, cooked ham, and pineapple.
Although it may come as a surprise to see pizza on a list of popular Canadian meals, Canada has two claims to fame when it comes to pizza! First, in Chatham, Ontario, the Hawaiian pizza (pineapple, cheese, and ham) was created!
In Chatham, Ontario, Hawaiian pizza was created.
Tourtiere
A double-crusted meat pie with a savoury pork, beef, onion and spice filling.
If you're looking for something robust, try the French Canadian tourtière, a savoury meat pie popular over the holidays (but is popular year-round). Pork, veal, beef, and game are preferred meats for filling the pie, although recipes vary by location and family.
It is typically prepared of pig, beef, and/or veal and seasoned with clove and cinnamon in Quebec, where it is most well-known. It's called Petits Cochons in Acadia, and it's usually made with just pork and baked in smaller, individual quantities (Little Pigs).
Game Meat
Game meat may play a significant role depending on where you are in the country. Venison, caribou, and moose, though not as prevalent in big towns, are frequently utilised as the main meat in specific dishes. Even moose tacos are available!
Lake Fish
Canada is known for its gorgeous east and west coasts, but it is also home to several Great Lakes, most of which are in southern Ontario. Yellow perch and pickerel are two of the most popular Great Lakes fish, but there are many others that may be caught all year in the north by ice fishing. Lake fish is often salted, cured, or smoked, and can be found lightly battered or breaded on patios in the summer.